Rise Forest Floors is residential projects with huge developments that connect with your needs has lifestyle developments and make it with pristine landscape. The residential project is one of the first with a picturesque landscape and a nearby national park area which gives beautiful greenery. It is with promising lifestyle development that connects with 3 BHK with residential independent floors. It gives you the best of the green landscape that is soothing to the eyes. It has coveted lifestyle homes that make it with promising developments and is also ideal for lifestyle and sports enthusiasts. The project makes it a habitat that adds to pleasure and makes every day memorable at Sector 1, Greater Noida West.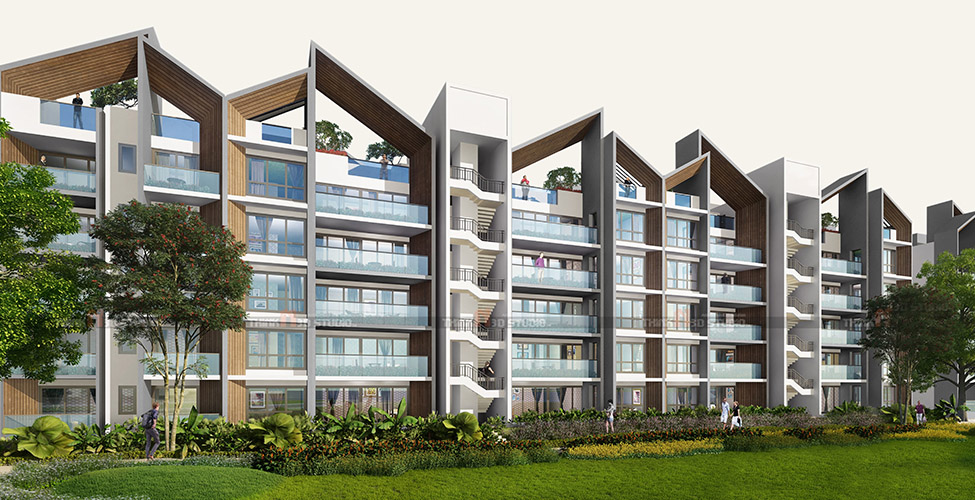 Rise Forest Floors has 100 acres of land which comes with exclusive design and connects with the needs of buyers. The residential project has with huge number of sports facilities that come with a beautiful cricket plaza, basketball court, and tennis courts. It connects with a swimming pool, yoga deck, fitness park, and jogging track. The residential project has with best of the gym, squash, pool game, and even rock climbing which adds to entertainment. It is a project that comes with a multi-purpose playfield that lets you rise with games which is part of your lifestyle. It gives you an entertaining and healthy lifestyle which adds more fun and vigour to life. The project has a clubhouse with a super area of 55000 sq ft which makes it a huge area. It covers all the needs and is ideal for home buyers who wish to get the best of all with developments, peace, and prosperity being part of it.
Rise Forest Floors is with 3 BHK + 2T with an area of 1475 sq ft, 3 BHK + 2T is with an area of 1475 sq ft. The residential project has all the needs as 3 BHK + 3T with an area of 1820 sq ft. It has 3 BHK + 3T that has a super area of 1820 sq ft. This makes it one of the promising developments and makes it an ideal home with all necessities. It has a huge number of well-developed infrastructure all around. The project is with all the developments that are with a huge area of 38 acres. It has with total of 154 launch apartments although is an under-construction project. It is with 3 side open properties. The residential project is with UPRERAPRJ295718 which makes it an assured project.
Rise Forest Floors is with possession on offer and is near completion. It is one of the projects that connects with all needs which includes the RCC frame structure. It has the best of the RCC frame structure with other bedrooms that add superior quality floors. It has vitrified tiles and walls with plastic emulsion paints which have gypsum plaster. There is a designer false ceiling as per design aesthetics. It has a modular wardrobe which is as per design. There is a modular wardrobe and superior-quality vitrified tiles. It has anti-fungal paint that has good quality developments. The project complements with all needs and offers better lifestyle homes. Visit our more projects: Property in Greater Noida, Saya Piazza Price List, Nirala Estate Phase 2 Price List