Saya South X is a commercial project as an elegant lifestyle development with immediate connectivity to all parts of Delhi-NCR. The commercial project is one of the best with added features and superior amenities. It is with all the developments such as lifestyle retail, retail shops, and anchor stores. The project has well-developed screen multiplex and smart offices that connect with your needs. It has promising lifestyle developments such as business suites and restaurants that give you delicacies even if you are at work. The project is a well-developed and complete lifestyle development that offers better responses to specific business needs.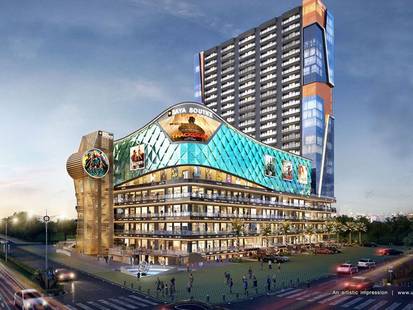 Saya South X has with huge retail and shopping area that connects with all needs under one huge business premises. It is with hypermarkets, business development zones, and with huge number of branded retail outlets. The project is with UPRERAPRJ17950 as RERA specifications and ID. It complements all the business needs and makes it an assured project. The project makes it world world-class shopping destination that is a great project-specific area at Greater Noida West. It adds to a huge number of expected footfalls as the project has immediate connectivity to a huge number of residential spaces. The project is with beautiful landscapes and lifestyle developments that are part of the residences.
Saya South X has with project size of 1117 units that is spread over in area of 3 acres. It comes with retail shops with an area of 150 sq ft to 224 sq ft. The project is with the best of the convenience, lifestyle developments, safety, and leisure being part of it. The project comes with power backup and, a water supply treated for purity. It has high-speed escalators and lifts that let you reach with ease. The project has 24/7 security, fire fighting systems, emergency rescue, and alarms. There are CCTV and video surveillance, burglar alarms, smoke and heat sensors. The project develops as multi-brand retail, food courts, and high street retail making it with great developments.
Saya South X is with one of the promising locations at Plot Number C1-Sector Ecotech 12, Greater Noida West. The project connects with well well-developed area and it has a huge area of 12000 sq m. There are commercial units with price range from Rs 28.5 lac to Rs 1.64 Crore. The commercial developments add with commercial shop to studio apartments which makes it a complete project. There are some of the development highlights that make it a project that serves all the needs. It has all the shops that are well planned with optimal visibility and there is no dark area. It is with smart and well-defined business suites. It has one of the dedicated towers which adds with shopping centre on the lower floors.
Saya South X is with necessities as six of the banquets on level 5. It has multiple event space that comes with guest lodging, catering, and décor that makes it with fabulous development. It adds 6 screen theatres which adds over 900 seats. It adds a high-quality chair with a luxurious setting and also has low maintenance on offer. Visit Our more projects: ACE 153 Noida Price List, London Mart price List, Property in Greater Noida Price List