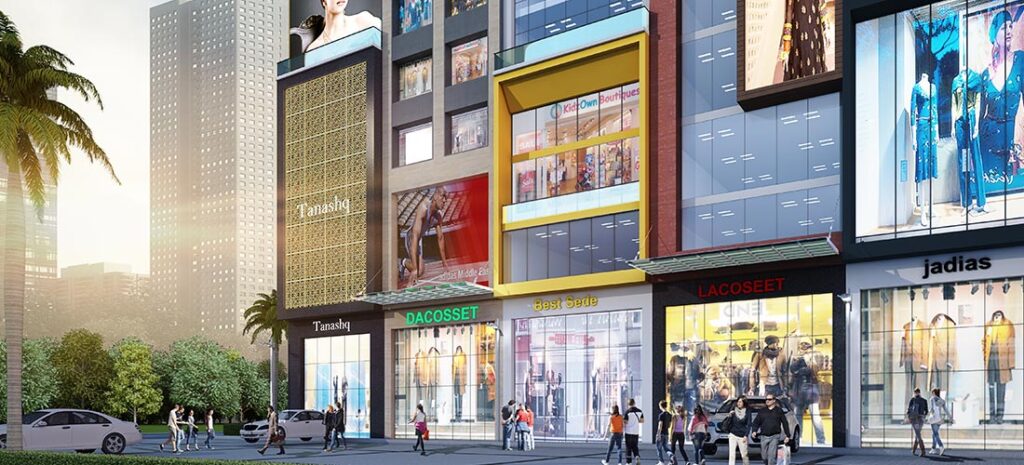 Gaursons Developers gives residential, commercial, and mixed-use developments to buy without hesitation. The builders have carved a niche in real estate. The developer gives some of the best real estate projects and is known as one of the biggest builders in the region. The Gaur builder's new project has come up with some of the best developments that offer properties at good prices:
Gaur Aerocity: Gaur Aerocity is with well-crafted design and modern commercial plots. It is one of the first commercial projects in India with 100% ground coverage and construction approval of up to a 9-floor area ratio. It is spread over an area of 250 acres or 101 hectares. The project is integrated with the township located on Yamuna Expressway which is opposite to F1 track. The township is ready with all the roads, electricity, and water availability. The project area will have proximity to India's biggest Jewar International Airport, Toy City, Film City, aviation hub, textile hub, heritage corridor, and furniture park. Gaur City 14th Avenue Price List / Gaur Aero Suites Price List / Gaur Aero Mall Price List / Gaur city 16th avenue Price List
Gaur Worldsmart Street: Gaur World Smartstreet is one of the biggest retail and commercial hubs with a location at Greater Noida West. The project is with a location at just 2.5 km from Gaur City. It adds with massive emporium that offers retail brands, kiosks, and shopping complexes. It adds food courts and office spaces with brands and businesses flourishing at a good pace.
Gaur Krishna Villas: Gaur Krishna Villas is one of the luxurious residential villas that has culture and devotion mixed to create a great ambiance. It has 3, 4, and 5 BHK independent villas that add beautiful independent villas. The project is with a location at integrated township and making it one of the most valued projects near Jewar Airport. It attracts business interest from national and international buyers.
Gaurs Runway Suites: Gaur's runway suites are one of the ultra-modern concepts that add an unmatchable experience. Gaur City Resale Flats Noida, It adds contemporary living with commercial spaces that are built up to the third floor. It has multi-level car parking and commercial studio apartments with an area of 460 sq ft. The project adds excellence in every aspect and makes it every buyer's dream.
Gaur Gracious: Gaur Gracious is a residential project in an area of 30 acres. The project is with a location in one of the fastest developing neighborhoods. The project is with a location in the heart of the city which is near the Pacific Mall and multiplex. It comes with well-planned development with plots available for parks, clubhouses, and schools. The project is within gated developments and has a children's park within the complex. It adds 3 storied functional clubs.
Gaur Global Village: Gaur Global Village is a residential project at the highly develop Crossings Republic in Ghaziabad. The project adds with separate entry for each block. It comes with 75% open space and a two-tier security facility. The project has an avenue plantation with a beautiful landscape garden. It adds 23.44% price appreciation from the past 1 year. It has 2 and 3 BHK apartments with 2 BHK that has an area of 1050-1520 sq ft. It has 3 BHK apartments with an area of 1505-1870 sq ft.