CRC Joyous Floor plan is with well-planned residential developments. It is with 2 BHK, 3 BHK, and 4 BHK residential apartments that have a location at Techzone IV, Greater Noida, UP. The residential project is with a total of 536 units that has fully luxurious homes which are vastu compliant too. The residential project is with 9 units of retail shops that make it easy for the business community to find a place for selling their products. The residential project is with a total of 4 towers and it comes with ground + 27 floors. The project is on offer by CRC Homes Pvt Ltd one of the well-established developers. It is with completion by September 2027 and has UP RERA registration too.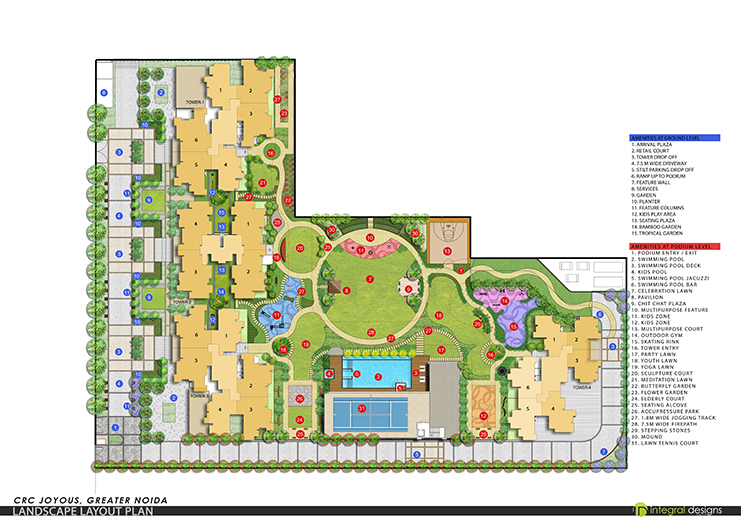 CRC Joyous Floor Plan is for residential projects with 2, 2.5, and 3 BHK apartments spread in 4 acres. It is with a total of 548 units and with an area of 1040 sq ft to 1575 sq ft. The 2 BHK with an area of 1040 sq ft, the 2.5 BHK with an area of 1230 sq ft, and the 3 BHK apartment with an area of 1395 sq ft, 1575 sq ft. The project is with Ground + 25 height residential project that adds premium features. It is within a 50-minute drive from the upcoming Jewar International Airport. The project is in an excellent location on a 130-meter-wide road. It is in proximity to schools, hospitals, and markets. It is just 100 meters from the proposed metro stations at Sector 2. It has a huge number of major banks and is next to Noida it Hubs which are at Sector 135, 142, 137. It is 40 minutes from the upcoming Film City.
CRC Joyous Floor plans are with apartments that face green areas and roads. It connects with ample natural light and has an aesthetic design foyer entrance. The project has an excellent carpet area, and wide balconies, modern and aesthetically build yet with minimalist features. It has a clean structure and comes with soothing neutral colors. The project is with amenities that have meditation zones, a gym, and badminton courts. It adds squash courts, lawn tennis courts, and a cricket pitch. The project offers one of the first-of-its-kind acupressure pathways. It has an amphitheater, a special area for elderly citizens. The project thus fulfills all needs and aspirations of the buyers with excellent amenities. It extends with amenities such as a library, café, lounge, swimming pool, and crèche. It adds multi-purpose halls, an indoor and outdoor sports arena, playgrounds, a spa, a yoga center, and board games rooms.   
CRC Joyous Floor plans are with specifications that make much of the difference. It is with earthquake resistance RCC frame structure. It has a living, and dining room with Indo-Italian marble, modular switches within fixtures, and fittings. It has designer POP on ceilings and walls with plastic paints has one of the walls with texture paints. It has a kitchen with designer ceramic tiles and borders and floors with anti-vitrified tiles. It has bedrooms with vitrified tiles and wooden laminate in the master bedrooms. The project is with a main entrance lobby that has a combination of different granite, glass, and texture paints.
more project RG Luxury Homes Floor Plan , Wave City Ghaziabad Total Area , Fusion The Brook.