Palm Olympia as a residential project is one of the most successful developments with one of the best locations. The residential project is ready to move phase 1 with 2, 3, and 4 BHK apartments. Phase 2 is with 2 and 3 bhk apartments is with under construction. Both phase 1 and 2 offers residences with great specifications and better lifestyle amenities. It connects with your needs and makes it one of the promising developments at great prices. The residential project has with beautiful design and great architecture that compliments your needs. The specifications are well-defined and make it a promising development that offers great returns on investments too. Anthurium Noida, Max Estates 128, Bhutani Grandthum, Godrej Tropical Isle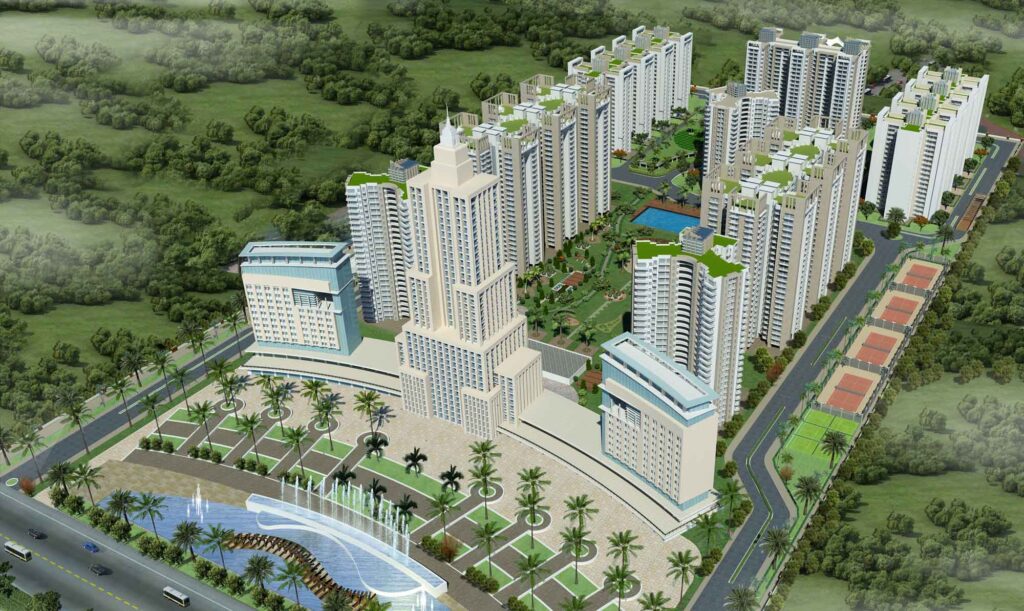 Palm Olympia as a residential project has an area of 25 acres and has total towers as 20. The Phase 1 residential project has with huge open area of 70% and has a total units as 3500. It is with all the necessary luxurious amenities that connects with your needs and develops lifestyle residences. The residential project is with 2 BHK apartments with better specifications. It has 2 BHK with areas of 883 sq ft, 1145 sq ft, and 1232 sq ft. The 3 BHK apartment has with area of 1317 sq ft, 1436 sq ft, 1517 sq ft, and 1917 sq ft. The 3 BHK also has a super area of 2089 sq ft. The 4 BHK residences have with area of 1906 sq ft, 2186 sq ft, 2423 sq ft, and 2569 sq ft. It thus offers a better specification that offers a wide choice of homes at good prices on offer. The project has good resale value and with immediate possession offers it makes the best choice for buyers.
Palm Olympia has best of the best indoor and outdoor developments. The amenities are huge in number as a manicure garden, security, open and covered car parking, clubhouse, and gym. It adds with salon, food court, basketball court, and volleyball court. There are cricket pitch, skating rink, banquet hall, squash court, swimming pool, saloon, and barbershop. It adds with grocery store, open kids area, and park. There is a lawn tennis court, badminton court, and jogging track that serves the needs of buyers and residents.
Palm Olympia Phase ii has 14 acres of residential development. It has 4 acres of land with a central green court. There are ultra-modern clubhouse that offers world-class amenities. It offers cover car parking for residents and visitors parking. It is one of the multi-tier and secure residential projects with a huge number of security developments such as security guards and CCTV attachments. The residential project is with 2 BHK + 2T + Study that offers an area of 1182 sq ft. The 3 BHK + 2T has with super area of 1357 sq ft and the 3 BHK + 3T + Utility has with area of 1608 sq ft. The project connects with the best of the metro connectivity, expressways, and other necessary developments. It is with ideal developments that are made according to the preferences of buyers and investors. It offers good returns with better capital appreciation.